Bar Furniture: How To Pick The Best One For Yourself?
Posted by Admin on July, 22, 2021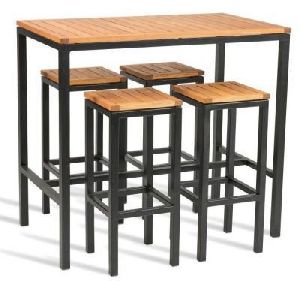 Decorating your home or restaurant speaks a lot about you and your personality. Beautiful homes and restaurants often come in themes or colour combinations which leaves the visitor awestruck. Most homes have liquor or alcohol bottles and they can be used to jazz up the living space.

Liquor comes in beautiful bottles and is a status symbol in today's society. You can use bar cabinets or other bar furniture to showcase your liquor collection. Bar furniture comes in a variety of styles and you can pick one which suits your taste the best.

Set a theme or colour scheme
Before you begin your bar building process, you should think ahead about the kind of style you are looking for. This will help you narrow down your search for bar furniture. Bar furniture exporters from Rajasthan have some of the best collections in India at affordable rates. Be sure to look out for your ideal bar furniture with them.

Classic Vintage
Many bars prefer to have a vintage look. It adds class and attracts the attention of a visitor towards itself. Liquer becomes better with age, so vintage themed bars would be a great look for your liquor collection.

Fun and Quirky
If you love bright colour schemes, then a fun and quirky-looking bar might be the best option for you. Bar Cabinets can be painted and styled with bright colours. Although this is unconventional, surely is rising in popularity. You can have fun with a variety of lighting as well to make the bar look eccentric yet beautiful.

Simple and Sophisticated
Many a time, having a simple bar can be all the design you need to make the surroundings look good. Subtle colours and elegant bar chairs add a sense of royalty to the room. If elegance, sophistication, and luxury are the kind of vibe that speaks to you then you can allow your bar to be a symbol of it.

Bar Furniture you should look out for

Bar Chair
Your bar chair should be comfortable and in sync with your theme or colour scheme. Bar chairs come in a variety of shapes and sizes. You can also pick the kind of material you wish for your set of bar chairs. Ideally, the number of bar chairs you can buy should be in accordance with the size of the bar table. However, you may choose to buy a variety of chairs to add a fun and unique style to your bar.

Bar Stools
Bar stools usually don't have a backrest and are low lying. However, a variety of sitting arrangements in bars is always a good decision as it allows your visitor to choose their preferred spot.

Bar Table
Your bar table will be the center of attraction for your visitor. Make sure to buy a table big enough for the number of people you have in mind for your space. The size of the table will determine the number of chairs or bar stools you will ideally need for your space.
This entry was posted on July, 22, 2021 at 16 : 30 pm and is filed under Bar Furniture. You can follow any responses to this entry through the RSS 2.0 feed. You can leave a response from your own site.